John Guy | The Metropolitan Museum of Art, New York
China in India: Trading and Collecting Porcelain in Early Islamic India
Date and time: Wed, 15 September 2021
Register for the lecture here: https://www.eventbrite.com.au/e/st-lee-lecture-john-guy-metropolitan-museum-of-art-new-york-tickets-167031282061
John will be introduced and responded to by Jackie Menzies, Emeritus Curator of Asian Art at the Art Gallery of NSW.
The Silk Road gave rise to unprecedented commercial quantities of ceramics being traded by sea routes by the early ninth century – most spectacularly witnessed by the discovery in the Java Sea of the Belitung shipwreck's cargo.
The Muslim courts of Central and West Asia and the Sultanate rulers of northern India provided highly discerning markets for the porcelain producers of southern China in the Yuan and early Ming periods, with a taste for the finest porcelains known. In the course of the first half of the 14th century, the kilns at Jingdezhen, in northern Jiangxi Province, began to produce radically new types of porcelain which were different in all major respects from what had gone before.
Unlike the hallmark monochrome wares of the Song period, these newly-devised shapes with complex painted underglaze cobalt blue decoration were conceived for a foreign clientele.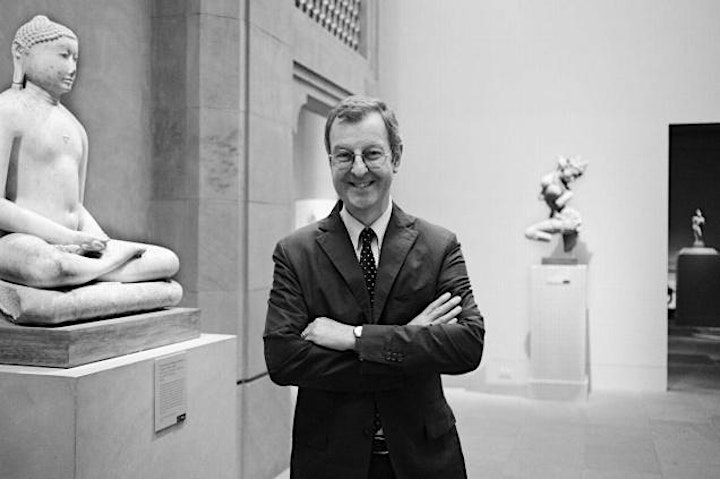 About John Guy
John Guy is Curator of South and Southeast Asian Art at the Metropolitan Museum of Art, New York, with research interests in the temple arts of the Hindu-Buddhist-Jain traditions, and in the ceramic and textile trade of the Indian Ocean diaspora. His recent major exhibitions include Interwoven Globe (2013) and Lost Kingdoms: Hindu-Buddhist Sculpture of Early Southeast Asia (2014).
He joined the Met's Asian Department in 2008 after 22 years at the Victoria and Albert Museum, London, where he was Senior Curator of Indian Art, with responsibility for the sculpture collections. He has acted as an advisor to UNESCO on historical sites in Southeast Asia and worked in partnership with government archaeological agencies in Thailand, Laos and Vietnam, including at the sites of Wat Phu in Laos and My Son in Vietnam, assisting in documenting for World Heritage listing.
Other projects have included maritime excavations, most recently the Hoi An shipwreck cargo in Vietnam, the Belitung shipwreck in Indonesia, and the Phanom Surin shipwreck cargo in Thailand. He is an elected a Fellow of the London Society of Antiquaries (2003).
This event is organised by the School of Philosophical and Historical Inquiry and the School of Languages and Cultures at the University of Sydney.